2005 (14U) Boys US Youth Soccer Midwest Regional Champions: Mundelein SC
Ivan Barrientos, Ethan Bartels, Eric Chavez, Bryce Durlacher, Alonso Garcia, Armando Garcia, Jesus Garcia, Uriel Garcia, Ariadne Gonzales, Axel Gutierrez, Omar Mangato, Brandon Marquez, Oscar Martinez, Reyes Parra, Ernesto Perez, Gustavo Ponce, Jonathan Rivera, Luis Salinas, Brandon Taboada, Ditar Useni, Ivan Villegas, Aaron Zelaya; Coach: Peter Petrov
Mundelein SC Academy came away with a 2-1 win against Nationals Union 05 Black (MI) to claim the 14U Boys regional title. The Illinois side played from in front for most of the first half, as Oscar Martinez netted a fourth-minute goal to put MSC in front. It took just seconds after the start of the second half for Nationals to equalize, as Adam Pluszczyk held off a defender and lifted a shot past the keeper and inside the right post. MSC regained the lead in the 45th minute when Ernesto Perez found the back of the net. That proved to be the game-winner, as MSC took the 2-1 win to become Midwest Regional Champions. Mundelein SC is registered with the Young Sportsmen's Soccer League.
2004 (15U) Boys US Youth Soccer Midwest Regional Champions: Raiders FC
Bryant Alvarez, Omar Aparicio, Ernesto Arellano, Ulises Castañeda, Oscar Cerritos, Christian Leon, Ivan Lopez, Raul Mariscal,
Julian Martinez, Melvin Martinez,Irving Axel Moreno, Terry Munoz, Juan Jesus Ramirez, Francisco Reyes, Nicolas Soto,
Marco Antonio Valencia, Josue Villanueva; Coach: Juan Espinoza
A couple of overtime goals helped Raiders FC 2004 earn a 4-2 win against SLSG 04 Elite (MO). Ryan Harvatin put SLSG in front with a 20th-minute strike, but Raiders equalized in the 33rd minute when Marco Antonio Valencia freed himself for a left-footed shot that found the back of the net. Owen Hardy scored early in the second half to put SLSG back in front, and that lead held until Raiders scored on an own goal in the 70th minute. The game moved to overtime, and Raul Mariscal and Irving Axel Moreno each scored for Raiders to help the Illinois side to the 4-2 victory and regional title. Raiders FC is registered to Central Illinois Youth Soccer League.
2000 (19U) Girls US Youth Soccer Midwest Regional Champions: Campton United SC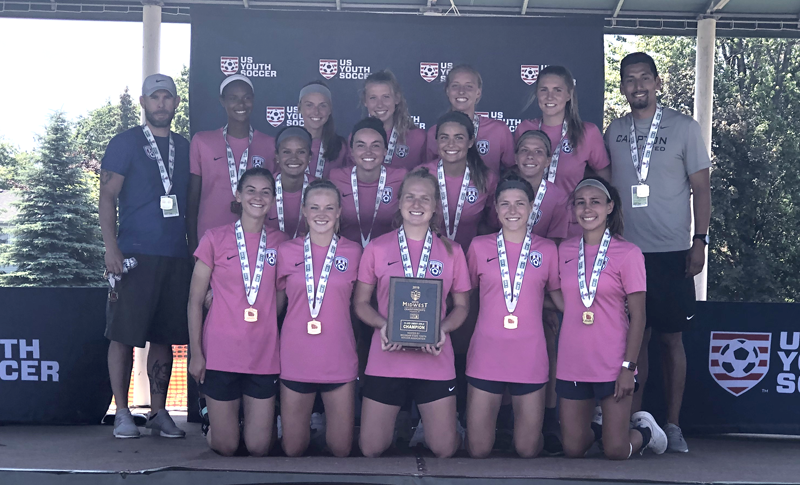 Katie Cannon, Chantel Zarranza, Jillian DiTusa, Caitlin Farrell, Madison Fischer, Molly Grant, Saydie Holland, Stephanie Howe, Rachael Lutter, Erin McCarthy, Paige Miller, Katie Montgomery, Claudia Najera, Hannah Rittenhouse, Victoria Thornton, Kayla Villa, Celeste Wahlberg, Alison Wessel, Caroline Zimmer; Coach: Scott Keena
Campton United Red netted a last-minute winner to defeat MapleBrook Fury (MN), 2-1, and claim the 19U Girls regional title. Paige Miller put Campton in front in the 22nd minute, and Linnea Yacovella leveled the score at 1-1 with a 69th-minute goal for MapleBrook. In the 90th minute, Saydie Holland found the back of the net to give Campton the 2-1 win. Both teams previously qualified for the National Championships by winning their National League divisions. Campton United is registered to the Illinois Women's Soccer League.
In addition to the the three Regional Champions, wwo other Illinois teams will also be heading to the US Youth Soccer National Championships after earning their spot at Nationals thru the US Youth Soccer National League
2005 (14U) Boys Raiders FC
2005 (14U) Boys GLSA FC 1974 Elite
Two other Illinois teams had hard-fought, one goal losses in the Regional championship match and finished as US Youth Soccer Midwest Regional Finalists
2003 (16U) Boys US Youth Soccer Midwest Regional Finalists: FC United
Keegan Acres, Nikolas Argyros, Ethan Burnstin, TJ Cairney, John Cronnolly, Declan Flanagan, Hunter Heyman, Mario Hrvojevic,
Jake Krueger, Isacco Mati, Drew Maytum, Zachary Moskowitz, Gabriel Nayman, Peter Norehad, James Paden, Tommy Prokos,
Michael Sullivan, Zachary Thompson, Jackson Turner, Tommy Zipprich
After building a first-half advantage, Milwaukee Bavarians 2003 (WI) held on for a 3-2 win over FC United 2003 Pre Academy to claim the 16U Boys regional title. William Navarre and Mitchell Dryden each scored in quick succession to give Milwaukee a 2-0 lead after 29 minutes of play. Michael Sullivan supplied a response for FC United a few minutes later, as he found the back of the net to pull the Illinois side within a goal. Dryden netted his second goal of the game in the 50th minute, as he rose up and headed a corner kick off the underside of the crossbar and over into the goal - putting Milwaukee up, 3-1. Once again, FC United had a quick response when Jake Krueger scored off a corner kick to cut the Milwaukee lead to 3-2. The Illinois side threatened to equalize on multiple occasions, including a late set piece that forced Milwaukee keeper Jeremy Munoz to drop down quickly for a save. The Bavarians held on until the final whistle to earn the 3-2 win and punch their ticket to Nationals. FC United is registered to the Central Illinois Youth Soccer League.
2002 (17U) Boys US Youth Soccer Midwest Regional Finalists: Galaxy SC
Myles Barry, Shea Bechtel, Diego Carrillo, Logan Finnegan, Samuel Froslid, Noah Glorioso, Trey Gora, Bryan Grimaldo,
Hans Haenicke, Pablo Jara, Owen Jarrell, Ryan Jasek, Tyler Kaput, Tyler Kero, Nathan Marassa, Oluwatosin Owoladi, Mark Thurow, Jasper Waddington, Kanon Woodill

A late winner helped Michigan Jaguars 02 Green (MI) earn a 1-0 victory over Galaxy 2002 Boys Blue in a tightly-contested 17U Boys final. Neither side managed to net an opening goal before the game moved to its final stages of regulation, despite each side generated periods of pressure in the attacking half. That changed in the 81st minute, as Shion Soga found the back of the net to give the Jaguars a 1-0 lead. Michigan managed to hold off late tying attempts from Galaxy and secured the 1-0 victory that punched a ticket to Nationals for the Jaguars. Galaxy SC is registered to Central Illinois Youth Soccer League.


Registration for the Fall 2019 State Cup for 15U-19U Girls teams is now open thru July 9.